Editor-in-Chief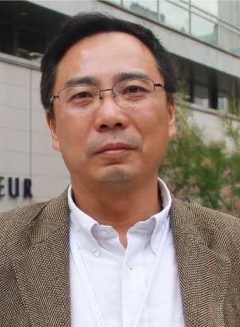 Chenyu Zhang, MD, PhD
Nanjing Drum Tower Hospital Center of Molecular Diagnostic and Therapy, State Key Laboratory of Pharmaceutical Biotechnology, Jiangsu Engineering Research Center for MicroRNA Biology and Biotechnology, NJU Advanced Institute of Life Sciences (NAILS), NJU Institute of AI Biomedicine and Biotechnology, School of Life Sciences, Nanjing University, Nanjing, Jiangsu 210023 China
Research Interests: MiRNA, Mitochondrial Function and Cell Metabolism.
Prof. Zhang, born in 1966, is Director of School of Life Sciences of Nanjing University, Vice Director of School Affairs Committee and Professor of Georgia State University (USA). Prof. Zhang also serves as member of Biophysical Society of China.
Prof. Zhang received his bachelor degree of clinical medicine from Harbin Medical University in 1987, and completed PhD of Molecular Endocrinology and Metabolism from The University of Tokushima (Japan) in 1995. Prof. Zhang had his post-doctoral training at Harvard Medical School between 1955 and 2000, and served as Research Assistant Professor in the following four years.
Prof. Zhang has published more than 200 articles in peer-reviewed journals and his total Impact Factor is over 1600 and the H-index is 52. Prof. Zhang was first discovered the ultra-stability of miRNA and created a new field of "extracellular RNA" research and application, and successfully transformed original basic discoveries into international leading clinical applications. He also performed cutting-edge research of mitochondrial function and cell metabolism on the regulation mechanism of metabolic diseases,which has promoted the development of the field. A total of 28 international and 33 domestic invention patents have been authorized and some of which have been converted into applications. Prof. Zhang also serves as Associate Editor of BMC Genomics and editorial board member of Journal of Biological Chemistry, Protein & Cell, Chinese Bulletin of Life Sciences, and Science China. He also presided over two "973 project".